WeChat Spy
Best WeChat Tracker app on the market
No ROOT required for WeChat monitoring
Download and install the WeChat Spy app now and test it for FREE!


WeChat is a Chinese based messaging, news, games, payment, dating and social media app released in 2011 by Tencent. This is practically Facebook, Twitter, Tinder and ApplePay all in one app. Sound great, right? WeChat is growing month by month. Even there are scandals of censorship and government surveillance, more and more people are using it, so probably WeChat monitoring by yourself is a must as well.
Why to WeChat spy
You are not the Chinese government to have the same reasons as them for WeChat monitoring but there are definitely some cases you'll need a good WeChat tracker:

1. Parental control - Nowadays children are exposed more than never: cyber-bulling, internet predators, porn content, drugs exposure. Internet is a good thing used responsible, but children just learn to be responsible and rational, so when used by a child better think about a WeChat monitoring app;
2. Spouse cheating - If you suspect your spouse is cheating on you the easiest ways would be to ask him/her directly but probably you'll not receive an honest answer, so WeChat spy apps are the best solution;
3. Employee monitoring - WeChat or any other chat app is addictive especially for young people. More than this, sometimes employees are loosing time being on the corporate smartphone, even a better reason for a WeChat tracker use.
Best WeChat spy app on the market and why
Spapp Monitoring is the last generation monitoring app. Related to other monitoring apps it offer all the features you'll want and even more from are WeChat tracker:

1. All incoming and outgoing WeChat messages with date, time and contact - always good to know such details to avoid bullying, to have proof and more as Spapp Monitoring is a real WeChat tracker;
2. Block WeChat app option - perfect solution when WeChat monitoring result of your employee or child is too much use of it;
3. Block contact for SMS messages or calls in case you found a suspicious contact on your child smartphone when WeChat monitoring;
4. All pictures and videos received on WeChat;
5. GPS location with time and date - so you'll always can know where si the target smartphone.

Still not sure? What about all the other features? Did you know that Phone Monitoring is also a Snapchat spy and an Instagram spy as well - two of the most used apps by children nowadays? Or what about Facebook spy, Twitter spy or even Tinder spy - apps used by most young adults, the last one a dating app? Phone Tracker has it all: a long list of messaging apps, call recording, browser spy, SMS tracking and much more. Name a chat app and probably you'll find it in our features list.
How to use your WeChat tracker like a pro
Spy App for Mobile Phone is very easy to set-up and use. Here is step-bystep guide on the install and must-have settings in order to be sure it will work perfectly on your target smartphone:

1. First things first: have the target smartphone in your hands and open it;
2. If you have the target n your hands and opened it, go to Settings > Security > check Unknown Sources;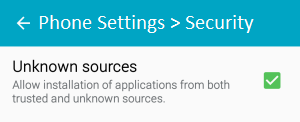 3. After it, go to Google Settings > Security > Uncheck or Turn Off "Scan device for Security threats".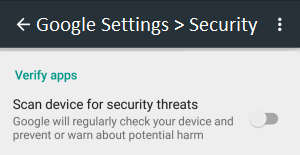 Starting Android 6, "Scan device for Security threats" can be found under Settings -> Google -> Security -> Google Play Protect . Here are more details on how to disable Google Play Protect;
4. Download the application;
5. After the app is downloaded, open and install it;
6. If it is the first time you install the app on that specific device, create an account (or login to your existing if is not the first device added);
7. After awhile you can login to our website and check for logs! Easy, right?
8. To make it work even better in background, select your smartphone model from the list and follow the steps or follow the steps from "II. Disable Doze battery optimization";
9. We also strongly recommend to enable notification for our app. That would be steps from I from the same list .

Another good news is you'll receive a FREE 3 days trial on each new added device, so you can test your WeChat spy on a specific device. Got an issue or a question? No problem! Our 24/7 technical support is there for you! Just write using the contact page or open a ticket from your account when logged in!

NOTE: Phone Tracker is for legal use only. Please make sure to read our Terms of service and write us for any questions or issues related to this or our app.
The bottom line...
Spy App for Android has it all, is one of the oldest tracking apps on the market, always developing and fixing any issues. It is more than just as WeChat monitoring app, it has it all, many features, including social apps. So, nevermind what social app is on the target phone, most likely it is in the features list of Spy App

WeChat is a registered trademark of Tencent Holdings Limited. To download WeChat you can go to the WeChat's Google Play page.