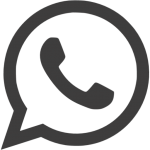 Why to use Spapp Monitoring to track WhatsApp messages


On the last period we have focused all our resources to offer a solution for parents to monitor their children's online activity and protect them from dangerous content.

There are some companies that claim that they track WhatsApp without ROOT but in many cases they are using methods that no longer work. Spapp Monitoring | Spy App for Mobile Phone is a company that constantly develops new ways to offer a good deal to our customers.

We are always updating the application in order to keep up with the new changes and these days, technology changes really fast. This time we were able to add a new way in order to track WhatsApp messages without Root, probably being the only company on the market that can really offer this important feature.

A few months ago we used a process for extracting a WhatsApp key which involved a lot of time, a laptop or a desktop and a lot of technical skills for completing that process. However some of you asked us to find an easier way without needing to perform a lot of complicated steps. We've listened to your desires and released Spapp Monitoring v11.3. All you need to do is to download and install the application and then to enable Accesibility and Notification access.
WhatsApp without ROOT allows you to:
• Track the WhatsApp messages which are sent with Phone Monitoring
• Track the WhatsApp messages which are received and displayed on the Notification bar with Phone Tracker
• Track the duration of the Incoming and Outgoing WhatsApp calls with Spy App
• Track the contact name with whom is made the conversation with Spy App for Android
• Track the time of the chats with Phone Monitor



WhatsApp Spy and WhatsApp tracker come now without ROOT. All our customers can test the new method to track WhatsApp without ROOT by simply installing Spapp Monitoring v11.3 and enabling the Accessibility and Notification permissions. Simply as that, without other complicated steps or additional privileges.
WhatsApp Spy or WhatsApp tracker are just a few of all the features that we offer.



Spapp Monitoring offers a wide solution for all of you:
• WhatsApp without ROOT for Android devices
• WhatsApp with ROOT for Android devices
• WhatsApp with Jailbreak for iOS devices

WhatsApp is a registered trademark of WhatsApp Inc. WhatsApp can be downloaded from this page - Download WhatsApp. You can also download it from WhatsApp from Google Play.


Download now the best WhatsApp Spy application for FREE: