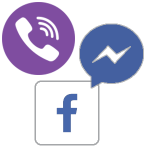 Spapp Monitoring v11.4 - Facebook Lite & Messenge and Viber monitoring


Be prepared to install the latest release of our Spy App for Android and monitor the messages sent through Facebook Messenger, Facebook Lite and Viber. The best thing is that those messages can be tracked now without needing a ROOTed device meaning that all our customers will be able to take the advantages of Spapp Monitoring v11.4.


The new release includes:
• Facebook Messenger tracking
No ROOT
required -
Facebook spy
• Facebook Lite tracking
No ROOT
required -
Facebook spy
• Viber tracking
No ROOT
required -
Viber spy
• Improved the browsing monitoring feature
***Please make sure that you are activating the Accesibility access and Notification access options for being able to track the Facebook Lite, Facebook Messenger and Viber messages without ROOT.


We will continue to improve the Spy App and in the next releases will try to track even the other social apps using the same method. Choose to be part of our community and protect your kids from dangerous content or sexting. If you need further assistance from us or if you require more details about this new version feel free to contact us and we will be happy to assist you!
Download now the latest Phone Tracker application for FREE: