Spapp Monitoring on Android 10
The Android OS is updating to a new version usually once a year. Each time there are new features, some of them visible for the user, some of them are more related to security and other features not so visible for the normal user. Usually we test our app on each version, especially when it is just released and there are some new features. Keep reading if your target phone is running on Android 10 and you'll know everything on how Spapp Monitoring is working on Android 10.
What's new on Android 10
Android 10 was released on September 3, 2019 and already is n many devices not only Google Pixel or OnePlus. It is available on Samsung Galaxy S10 as well, so it is not long time until it will be available on most devices it is compatible with. Android 10 has many new features and as it was on Android 9 or even earlier versions it has some new privacy and security features.

The most interesting new features on Android 10 regarding phone monitoring would be the one related to:

1. Privacy controls - now you have all the privacy settings in one place. At list this part is a good setting, so you will not need to search all the phone to find a specific setting.

2. Location controls - the extra setting on Android 10 is you'll be asked if you really want to give location permission to a specific app even if you did gave permissions during the install. It is a tricky feature for a monitoring application.

3. Security updates - all security updates can be done even faster. 4. Parental control app Family Link - you'll get location, screen time limit and apps manager. This sounds good, however, parental control should mean for you to know even in their screen time what they do or look for.

There are many other features new starting Android 10 but those aren't so interesting related to tracking apps.
Spapp Monitoring install and settings for Android 10
The good news are Spapp Monitoring is available on Android 10 and most features are available. The bad ones are related to some extra settings even if is not a big deal and of course call recording feature. Keep reading for more details.

The install process for Spapp Monitoring on Android 10 is exactly the same as for the previous Android version:
ATTENTION: Before you install the application on the phone that you want to monitor, you must follow next preparation steps:
- Go to Settings -> Security -> check Unknown Sources
- Go to Google Settings -> Security -> Uncheck or Turn Off "Scan device for Security threats"
1. Take the target device in your hands, open the browser on it and go to https://www.spappmonitoring.com to download the application
2. Click on Download and you'll receive a notification from the browser app (in this specific case, Chrome but valid for all browser apps) that your phone is not allowed to install apps from this source. You'll need to give permission, so click on "Settings"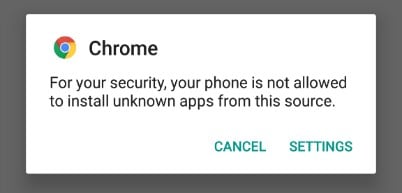 3. You'll be redirected to the Install unknown apps page and enable Allow from this source option. After go back to the initial page to continue the install.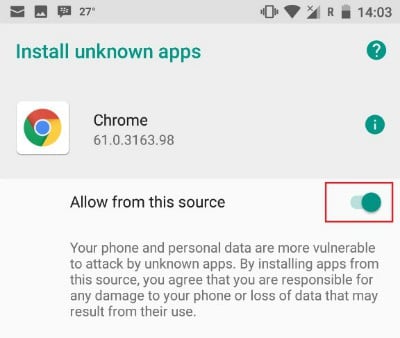 4. Open the application.
5. Register an account if you first run the application or insert the password if the device is already registered.
6. Click on "Enable notification" and check Backup or SPAPP Monitoring.
7. Click on "Enable accessibility" and check Backup or SPAPP Monitoring.
8. Click on Back -> Exit.

Now Spapp Monitoring is installed on your target device running on Android 10. However, we strongly recommend to disable the task killers related to battery and to enable notification for Spapp Monitoring. Here you'll find everything: first, follow steps from I to enable the notification and after choose your model and follow the specific steps or if your model is missing check steps from II to disable the Doze Battery optimization.

The specific for Android 10 related to the install is regarding location permissions:

1. After the install there will appear a push notification regarding location permission in the background for Backup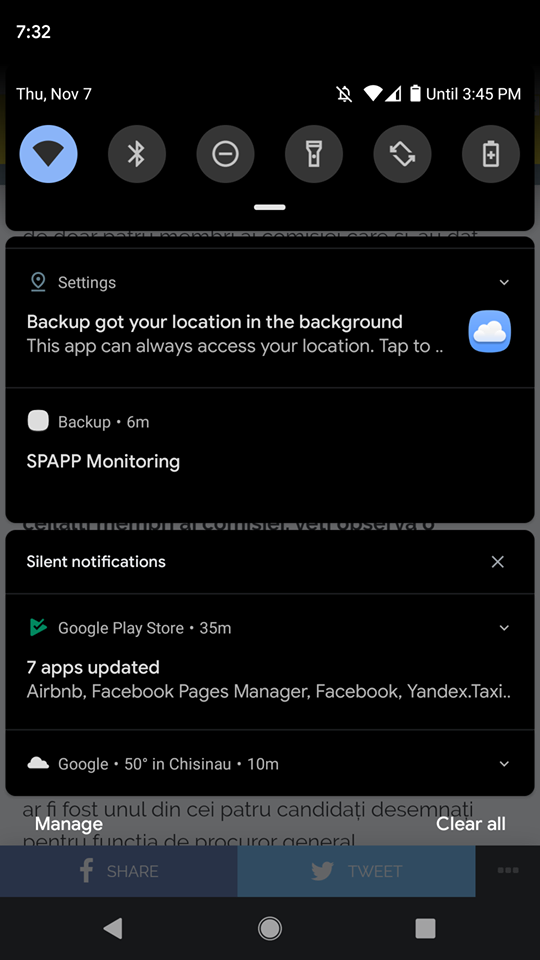 2. Click on it and a location permission will appear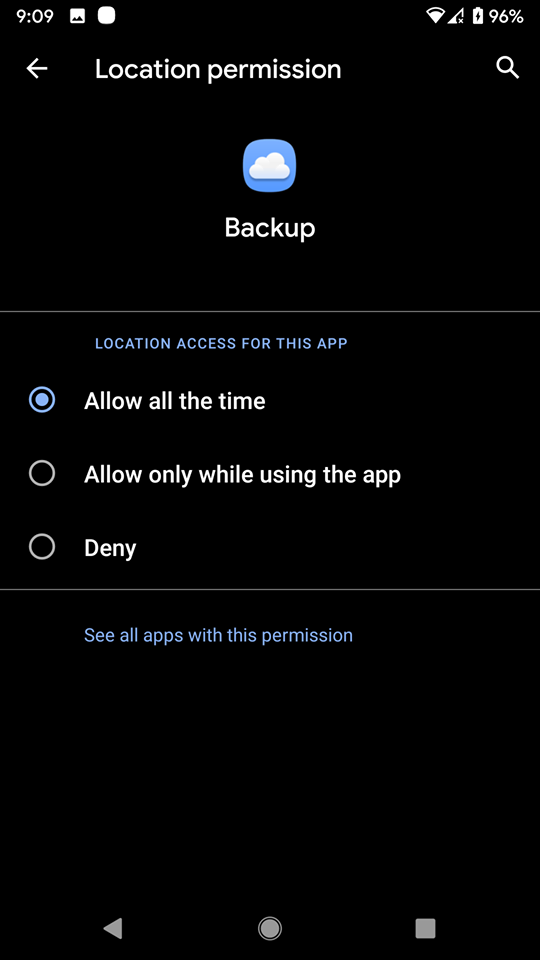 3. Select allow all the time and it will close by default.

Note: if the push notification is not on the phone, then go to Settings -> Location -> Backup -> Select allow all the time.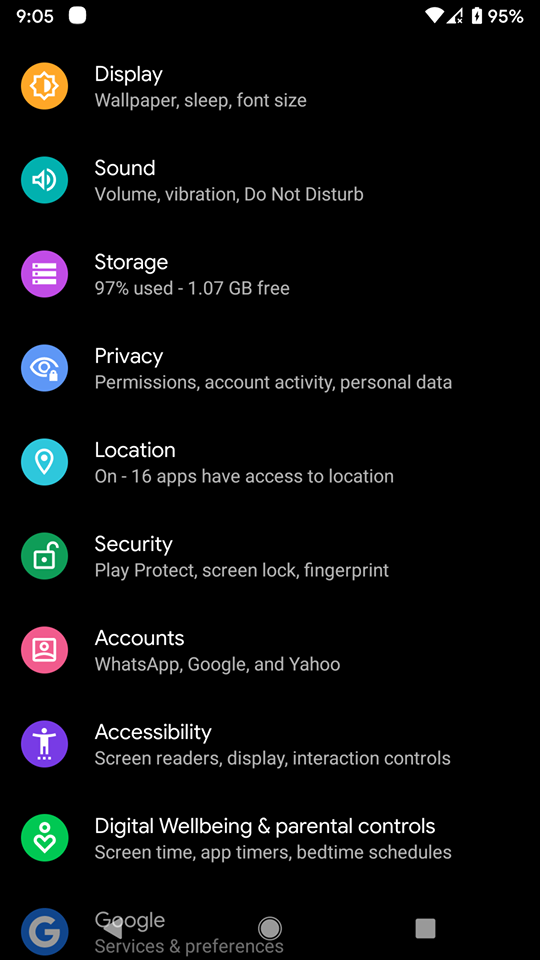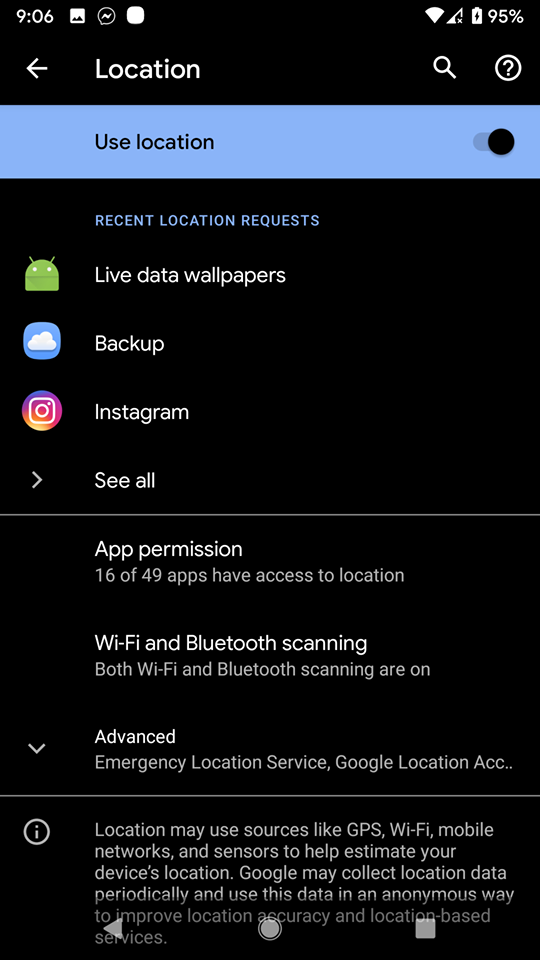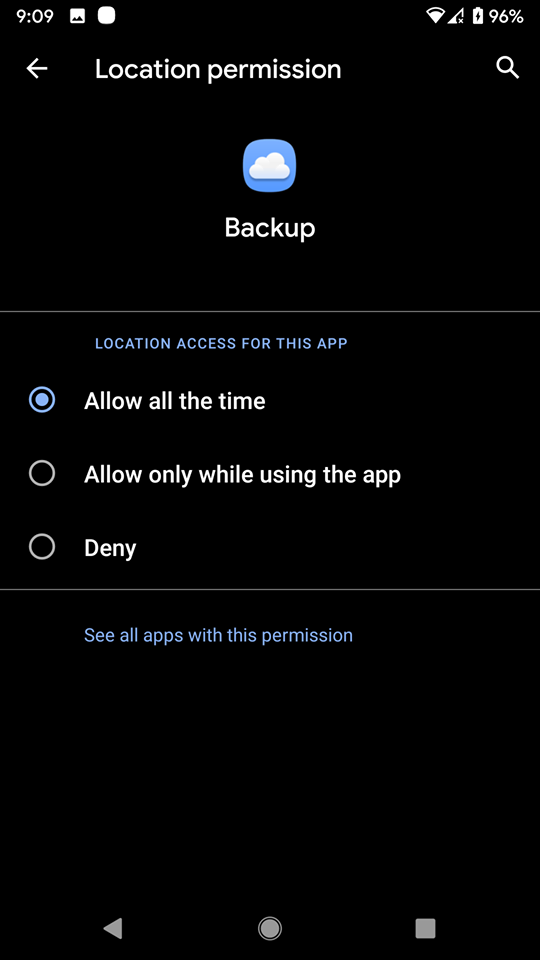 Now you are done with the location permissions as well!
Android 10 limitations for Spapp Monitoring features
Unfortunately as on each previous versions, Android 10 has some limitations when it comes to Phone Monitoring

The worst thing is related to call recordings. On some devices especially Google Pixel and OnePlus models call recording is silent on both sides. That means it is a limitation from the developer and we can not do anything. The only model of devices tested and with call recording working perfectly (both sides!) is the Samsung S10 Plus. However we can not guaranty call recording will work on all such models. On other models the call recording is most likely blocked. However, rumor has it that Google will take off this limitation but the question is if with the new Android version (that means next year) or with an update to this version.
The good news is Surroundings feature is still working perfectly on most tested devices. However, on some models it is already silent (blocked) as well.
Test the app before buying a full subscription if you want the call recording feature and surroundings. We remind you that you receive 3 free random recordings in trial. Please use them no matter the target device it is!

The second worst limitation is related to home screen app visibility. On previous Android version after install the app is not shown on the home screen. However, it is still not invisible or undetectable. This limitation is related to security updates to Android 10 and again, there is nothing we can do regarding this.

Another limitation regarding security is the picture internet commands. However it is not an official limitation, but the way it is working it most likely take picture and take front picture commands on both, internet and sms options, will not work. However, the best way to know for sure on your device it is to try them. Usually for previous Android versions it was a limitation only for some models as when sending such command a security clearance is needed so some models already did not give such clearance. The good news you can test it in trial as many times as you want, especially as we by default recommend to send these specific commands multiple times.

Other limitations we did not find on any of the testing devices. More than this, if you install the last 14 Phone Tracker version you'll receive some extra features and for the top chats, WhatsApp, Facebook and Snapchat, you'll receive some of incoming messages even if the user is in the specific chat and of course no ROOT needed! The amount of such messages to be tracked depends on each model, on some testing models for example on Snapchat it took 100% incoming messages without ROOT and without notification (when the user is in the specific chat). That sounds good, right? As usually, we recommend to install the app and to test it especially on the specific features you are interested in on your specific target device.

In conclusion Install the app and remember the extra permission regarding location for Spy App for Mobile Phone, make sure that SPAPP Monitoring is not stopped by any inbuilt task killer, enable notification for Spapp Monitoring and enjoy your phone monitoring app!

Android is a registered trademark of GOOGLE LLC. For more info on Android 10 you can go to the Android 10 page.


Download now the latest Phone monitoring application for FREE: