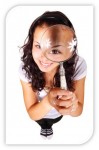 Your parental control options


As with deciding on buying any other gadget or technology device, making good decisions can be a little bit tricky. While getting a phone tracker application, what do you really consider: Name, brand, carrier? In today's world, everything is literally about technology. This fact comes with numerous threats for your children in terms of cyber bullying, access to pornography, sexual misconduct among other things that are usually out of parental control-not anymore. Thank God for small favors-the new parental control application enables you to keep abreast with everything that your child does i.e. texting, emailing and even chatting on social media. This ensures that your child stays safe and monitored while using their devices.

As with any other application, it is important to first understand your user needs. Parents should also consider important factors such as affordability. Choose a surveillance application that you will be most comfortable subscribing to. If you choose to only restrict calls/texts; without necessarily keeping track of social and multimedia activities, these may come a little bit cheaper. However, the complete parental control apps tend to be a little bit costly. Most importantly, consider compatibility of the cell phone tracker application with your phone. There are so many kinds of applications, so do not get confused.



The top three mobile tracker applications to consider:
Spapp Monitoring
This cell phone application records the incoming and outgoing phone calls, sms and surroundings. It will be able to spy on GPS locations, the browser activity and messages from applications like WhatsApp, Facebook, Viber, Skype and Line. Moreover it is one of the most affordable apps of this kind. It costs only 5 dollars for the basic subscription (SMS, MMS, Phone, Applications, GPS, Ring, Power, Browser, Pictures, Contacts, Calendar, Facebook, WhatsApp, Viber, Skype and Line logs) and 10 dollars if you want to have the basic subscription including call recording and surroundings. Also the app doesn't interfere with other apps and is suitable if you want to take care of your children, to monitor your employees or to back up data from your smartphone.


Mobile Spy Software
Although this mobile spy does not record calls, it enables you to view and block all unwanted mobile applications and blocks specific services e.g. internet browsing from your control panel.


Stealth Genie
This application is no longer available. This Cell Spy tracker allowed viewing all downloaded applications, record calls and receiving instant alerts. It also defines trigger names/words that will send you a warning when detected in texts/emails.
At the end of the day, only a parent can decide on just how much 'parental control' their child needs. Call it what you may: invasion of privacy or lack of trust but we all know the saying, "Better safe than sorry."

Our Phone Monitoring software is a full parental control app. Here are some new features of Spapp Monitoring: Whatsapp Monitoring, How to Hack Whatsapp, Telegram tracking, Snapchat Monitoring, Instagram Monitoring, Facebook Monitoring, Spy camera app, Sms spy, Call recorder spy or Cell Phone Tapping.