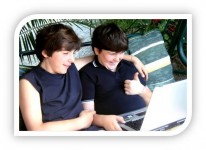 Understanding boundaries
When to use a parental control application
Well, by now we all know how a parental control application works. It generally enables you to put restrictions on your kids so that they cannot use specific applications and features on their phones or computers without your approval. But when do you as a parent know when to employ the parental control application?
Consider these instances:
Cyber bullying
Cyber bullying has become rampant for most kids. It is important to use a parental control application to keep your child safe from cyber bullying instances. Monitoring their phones means that you will be able to know whatever they are up to and this will ensure they stay protected. It also gives you the opportunity to practice good parenting in cases where your child is considered the bully.
Sexting
A Cell Spy application enables you to keep your child safe from the toxic 'sexting' world. It makes them understand that 'sexting' is more ethical and moral above anything else.
The social media and your child
Facebook, Twitter, Face time, Tumblr and other social media sites exposes your child to a lot of possibilities. It gives them a chance to interact without any restrictions. A mobile spy monitoring your child's activities on social media. Spapp Monitoring can helps you to monitor Facebook, WhatsApp, Viber, Skype, Line and Viber logs.
Restricting access
Mobile spy apps can be employed when you need to know the installed/uninstalled applications or to access specific contents on your child's phone. A parental control also enables you to change privacy settings.
It's frightening to think that your child might stumble upon inappropriate content. Therefore, the parental control app also allows a parent to filter out adult content that you may not want your child to be exposed to.
It is wise to set limits for your growing child through blocking, warning or allowing limited access to numerous applications.
Although communication is everything, limits are also everything.
Download now the application for FREE: