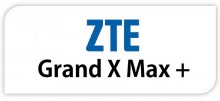 ZTE Grand X Max +
There's far much phone to a phone than communication. ZTE is making a big push with this latest invention. Labeled by Amazon as the fastest growing mobile manufacturer in the US, ZTE is definitely looking to capitalize in the face of competition against other well-known brands. However, fourth place in the US smart phone market share charts doesn't come easy. With a significant growth in the mobile market and the hot hardware that comes with the ZTE Grand X Max +, this phone won't be in the shadows for much longer.
The maximum display (6.0" Gorilla Glass 3 display) represents a wide screen that is favorable for watching movies and plying games. From first glance, the ZTE Grand Max + resembles the original Grand X Max but once in use, it's easy to associate with the solid user experience it offers. Although it has modest specifications, it has excellent performance. The phone possesses a sharp and responsive display with amazing viewing angles. The brightness of the display makes it easy to view even under sunlight.
The Grand X Max + runs on Android 4.4.4 KitKat and is packed with most of the applications found on Google Play store. Apart from that, it also comes with other third party apps e.g. Amazon Kindle and AccuWeather. Most ZTE handsets are not necessarily known for taking the best snapshots. However, the Grand X Max + rear front facing camera (13MP with88 degree wide-angle lens) is quite impressive. Unlike the original Grand X Max, it produces in-clear images with true-to-life colors. The equally amazing video quality generally makes it accurate. (1080p video) The phone's camera is easily adjustable regardless of the lighting situation. It has three shooting modes that consist of:

• Auto mode- This is for informal slots (HDR shooting). It comes coupled with noise reduction features.
• Pro mode- The Pro mode consists of a horizon leveler, ISO and exposure levels.
• Fun mode- It lets a user shoot with paranomic and multi-layered effects.
The expandable MicroSD card slot (up to 32 GB) and lightweight design for a phablet makes the ZTE Grand X Max + stand out from the likes of King Huawei Ascend Mute 2. Apart from offering maximum speed, the processor (Snapdragon 200 processor) also provides smooth navigation, easier switching between applications and added benefits such as premium multi-channel audio.

Our Spy App for Mobile Phone is fully compatible with ZTE phones. Here are some new features of Spapp Monitoring: Instagram spy, Facebook spy, Telegram spy, Phone Tracker by number, Whatsapp spy, Sms spy, Live Streaming Spy, Cell Phone Tapping, How to Hack Whatsapp, Snapchat spy, Camera spy app or Call recording spy.


The Grand X Max + is a good affordable phone for a big screen handset. Unfortunately, the large size makes the phone not to fit easily into a user's pocket. But, the phone size (6.06 ounces) does not bother everybody; it all just boils down to user preference. Also, it has a sluggish processor as compared to the likes of Nexus 6 and the iPhone 6 plus, this is a small price to pay for the amazing features that come with it. Amazing features such as the battery (3,200mAh) makes the ZTE Max + something to consider.
Download now the FREE Phone Tracker application: