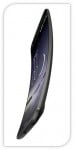 LG G Flex 2
To buy or not to buy, that is the resounding question.
Achieving the zenith of premium design has long eluded LG this time. This phone is drool-worthy. LG G Flex 2 stands out in the crowd. Not many phones come with a bended display or a curved screen. The G Flex 2 is easily equal to other top-related flagship smart phones. We've spent a lot of time scrutinizing this highly coveted phone.
This is why:
With a bold contour, this phone is exceptionally capable of anything. It's indeed a fuse of style, performance, attitude and amazing design. In platinum silver or flamenco red, this bendy hand set (up to 23 degrees arc) runs on Android 5.0.1 Lollipop. It really feels good on the hands as it is easy to hold and equally easy to operate. The LG G Flex 2 has the most awesome display (curved P-OLED capacitive touch screen, 5.5", 1080p). These are big impressive numbers on a big, impressive display that's razor sharp and clear; it's definitely one to look out for.
The most distinct feature about this handset is that it has no side buttons. Therefore, this means that the phone offers a flawless design that allows users to totally get lost in its sleekness. The camera captures the most vibrant images even in the dimmest of light (13mp with laser auto focus, optical image stabilization, and dual LED flash and 55MP photography), (2.1MP front-facing shooter). The camera also comes with motion recognition. This means that it can easily sense when the camera's position is being changed and it automatically takes a photo.
Still in awe? Well, you've seen nothing yet! The quick-charge battery (3000 mAh battery) charges up to 50% in 40mins. It is totally easy to multi-task with the LG G Flex 2. The additional software goodies e.g. notifications on the lock screen just make the phone that much convenient to use. With two different capacities (Quad core 1.5 GHz cortex-A53 & Quad core 2GHz cortex-A57) and a Bluetooth 4.1 with apt-X; this phone totally feels luxe. It gives that distinct user experience.

Most users are concerned with the overheating processor (Snapdragon 810) as it's a new chip. But that's all they are, concerns for the LG CEO rubbished all these concerns and asked the handset users to treat them as rumors. After all, experience is the best teacher. The phone's in-house treated Gorilla Glass touch screen makes it more durable while the coated back surface protects the phone from accidental scratches. In other words, it maintains the same look as the scratches won't be visible.

Our Spy App for Mobile Phone is fully compatible with LG phones. Here are some new features of Spapp Monitoring: Instagram spy, Facebook spy, Telegram spy, Phone Tracker by number, Whatsapp spy, Sms spy, Cell Phone Tapping, How to Hack Whatsapp, Snapchat spy, Camera spy app or Call recording spy.


The LG G Flex 2 is certainly not the only curved phone in the market. The Samsung Galaxy Round rivals this Flex 2 but its specifications are not even close to what the LG G handset offers. However, this phone will thrill anyone who loves technology. Who's not dying for a bending phone? Here's another beneficial change: The phone has an expandable memory of up to 2TB. Sadly, there are no manufacturers of 2TB microSD, the biggest is 128GB. We guess we have to wait and see!
Download now the FREE Cell Spy application: