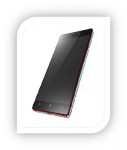 Lenovo P90
In the past few years, we've experienced a couple of flagship and midrange phones from various manufacturers but never from Intel. The company has been really quiet in the mobile phone scene until now with the manufacture and release of the Lenovo P90 Smartphone. Intel partnered with Lenovo to release this amazing device. Running on the Intel Z3560 processor that's paired with a 4G LTE Intel modem puts the phone at par with the likes of other premium smart phones. However, the Lenovo P90 is not a device for lighthearted users-it's a serious workhorse.
The Smartphone's design is not that attractive. It's nothing close to the Lenono Vibe X2 visually but this phone is still capable of holding its own when it comes down to its features; the most amazing being its massive battery (4000mAh) which is rated among one of the biggest. The battery allows users to have unlimited talk time and power dependability of up to a few days once charged. The display (IPS LCD Capacitive touch screen, 16M colors) offers an amazing surfing experience (15mbps download speed) (Wi-Fi 802.11, HTML 5 browser). Most times, the phone's screen (1920×1080 IPS) is mistaken for AMOLED because of the many saturated colors but in actuality, it's an IPS based panel.
Available in pearl white, orange black and lava red, the Lenovo P90 Smartphone has plenty of phone goodies to keep us hooked. It has a soft finish but generally feels like plastic. The 5mp front-facing wide camera and 13mp back camera make for the most amazing pictures because of features such as the optical image stabilization, autofocus, stabilization and the dual LED flash). It delivers the best kind of results; capturing moments that will be worthwhile for you to look back to. The resolution (1080p) gives the phone a sharp polish and a whole lot of detail.
Although the Lenovo P90's battery (4000mAh) is amazing and gives users the juice they need to power through the most demanding days, it makes the phone very weighty. It's not quite the slick device. Also, the Smartphone does not come with a memory card slot which makes it limiting for users who need a large storage space but it has a 32GB internal memory and 2GB RAM that compensates for this shortcoming. The accelerometer and proximity sensors give the phone that oomph that makes using it a delight.
Approximated to be worth about $369, the phone definitely gives you the value for your money. Sadly, the Lenovo 90 manufacturers have said they won't be bringing their products to US carriers leaving shipping as the only option if you are dying to own the Smartphone. Lenovo is not a new name in the smart phone world; however, they have been silent manufacturers. This invention might have given them a home in a world full of stellar smart phones. It's a really good upgrade from the earlier Vibe X2 version. Putting everything into consideration, it is a phone worth having; especially on those bad power days.

Our Spy App for Mobile Phone is fully compatible with Lenovo phones. Please activate the padlock icon for Spapp Monitoring or else the app may be killed by the Lenovo phone. Here are some features that you can enjoy on Lenovo: Snapchat spy, Whatsapp spy, Instagram spy, Facebook spy, Whatsapp hack app or Spy camera spy. These features are available from Spapp Monitoring version 16: Live Streaming Spy, Phone Tracker by number, WhatsApp call recording or File manager spy.


Download now the FREE Phone Tracker application: