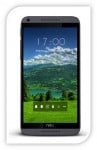 HTC Desire 816
While HTC is a common manufacturer name when it comes to smart phones, it has outdone itself once again when in regards to design and impressive looks. The company is truly living by 'less is more'. The phone's simplistic design makes for great visual aspects. Designed with a sleek Android user interface, (HTC 6.0UI) that's built on top of Android 4.4.2, it gives any user the things that we really care about in regards to smart phones - a stylish sense and a stellar performance. However when it comes to this phone, you have to use it, to love it.
The processor (Quad core snapdragon 400Soc) doesn't leave anything to chance. It enables the HTC Desire 816 to have a high LTE speed. While the 5.5 inch display (720×1280HD resolution with 267 pixels per inch) makes the device very convenient to use, it also needs the use of both user's hands to hold, touch and type. One hand acts as a default for holding the phone while the other maneuvers. The HTC Desire 816 also has a curved design which makes it very ergonomic. While the plastic unibody construction allows it to flex lightly, the matte finish generally makes it unique. The most outstanding feature about the HTC Desire 816 should be the loud front-facing speakers (boom stereo sound with amplifiers). This is perfect for any loud music lover plus the phone gives us a new experience with the speakers.
When it comes to storage, the HTC Desire 816 has quite a generous RAM (1.5GB) coupled with an internal storage memory (8GB). With this, users can easily store files, multimedia and even a wide collection of music. This makes for a pretty solid package. The 5mp camera (with f/28, wide angle lens and 720p capture) is the only let down when it comes to this phone. It's quite sluggish, not really meant for an impatient person. While the front-face camera works great for both still pictures and videos, the camera at the back under exposes images especially when used in bright light. It's very slow in performance despite being equipped with tools such as panorama, anti-shake and all the fun filters.
Also, on the downside, the phone battles rattle a little when the phone shakes. This definitely is similar to the problem with the HTC M8. Apart from that, a phone user has to tap the screen twice in order to maneuver. This could be pretty annoying at times as it is preferable to tap the screen once.
The battery (2600mAh) makes the phone dependable just like other good quality mid-range smart phones. Apart from all the great phone features that we are so commonly used to, the HTC transfer tool application has to be one of the highlights of this phablet. The app is very efficient as it enables users to transfer anything on any HTC phones, even multimedia files.
Features like swapping memory cards without necessarily needing the phone's pin makes the HTC Desire 816 very cool. However, if you need a speedy camera, this is not the phone for you. It's not a perfect phone, but when it works, it works well. Patience is the only thing that might stop you from totally falling in love with this it. It's really hands on!

Our Spy App for Mobile Phone is fully compatible with HTC phones. Here are some new features of Spapp Monitoring: Snapchat spy, Instagram spy, Facebook spy, Whatsapp spy, Whatsapp hack app or Spy camera spy. These features are available from Spapp Monitoring version 16: Live Streaming Spy, Phone Tracker by number, WhatsApp call recording or File manager spy.


Download now the FREE Mobile Tracker application: