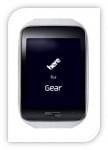 Samsung Gear S
Remember when we were younger and we'd sit at home and enjoy an episode of Bernard's watch? Later that night, we'd go to bed and dream of that perfect watch. It didn't necessarily have to go back in time but if it made calls, allowed you to text your friends, had amazing applications and basically helped you stay connected then that was it! Well, those childhood dreams are just about to turn into reality with the Samsung Gear S smart watch. Think it's only a watch? The Samsung Gear S is a complete on-wrist phone. Not so many watches come with their own 3G data or Wi-Fi (3G cellular LTE), cell service and SIM card slot.
The good
An Android smart watch is usually the complete opposite of a smart phone. It's never a stand-alone device. However, the Gear S smart watch has dared to be stand-alone, at least on some applications. But for it to work very efficiently, the smart watch needs to be paired with a Samsung phone to make most of its features count. While a perfect watch would be one that sizes and fits easily, the Samsung Gear S takes its features a notch higher. Its huge curved screen with chromed edges (bright OLED curved touch screen) makes for an amazing vivid and colorful display (with ambient light). It's as perfect as a smart watch could be!

The home button below the screen makes the watch generally easy to use; while the replaceable rubbery plastic sport band makes it easily customizable. The best part about the watch is that it's water resistant but that does not mean that you should get it wet intentionally. Other amazing features that the watch is studded with are inclusive of sensors, accelerometer, gyroscope, a compass, an optical heart rate, UV and a barometer. The amazing speakers also help to alert you when you get messages or when an alarm goes off. Yes, we also wonder how all these feature would come in such a small device.
The in-between
The Samsung Gear S is stand-alone when it comes to the internet but it generally requires a Samsung phone to pair with when it comes to install applications. Also, the applications just don't seem to maximize the extra large space on the screen.
The bad
Although the Samsung Gear S is amazing, it can be hard to type on the pop-up QWERTY keyboard. However, if typing feels too wiggly for you, the voice recognition might be a life-saver when it comes to some applications.

As compared to the Samsung Gear Fit, the Gear S is a little bit smaller. The fact that it's lightweight (66gms) makes it very convenient to use. The Bluetooth (4.1, 802-11b/g/n), 4GB storage, 512 MB RAM and dual-core processor makes it sort of inescapable. The more you now about how the watch was made, the more you respect it. The contacts are easily synced and honestly, the Samsung Gear S is the perfect double ganger for a smart phone.

2014 has been a great year for Samsung as a company. Taking amazing leaps in technology, the company has definitely proved that its products are here to stay even in the face of competition. Although the Samsung Gear S does not come cheap, we really don't wonder why!

Our Spy App for Mobile Phone is fully compatible with Samsung. Here are some new features of Spapp Monitoring that you can use on your Samsung device (including Gear): Whatsapp spy tool, Snapchat spying, Instagram spy, Telegram spying, Facebook spying, Camera spy, Sms spy, Call spy, Cell Phone Tapping or How to Hack Whatsapp.

It's so amazing; you would think it's a deception!
Download now the FREE Mobile Tracker application: