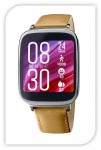 ASUS Zenwatch
People have different reasons for getting smart watches. It might be because one thinks its way cool and convenient, maybe because it's easy to use or because it makes you look stylish-who knows? Bottom line is that getting an ASUS Zenwatch is well worth it-for whatever reason. We should get it because we never want to stop working and connecting. Its specifications are not different than what other smart watches basically offer, give or take a few:
o AMOLED display (320*320, 1.63inch)
o Snapdragon processor
o Stainless steel casing
o Water resistant
o Slim body

It's the other things that make the ASUS Zenwatch different; things that we normally wouldn't notice in comparison of one smart watch to another. First and foremost, this smart watch looks really great on the wrist. The Android square-faced design takes the cake. Although it feels bulky when carried, it's very comfortable to wear. It's also very sleek (2mm thick) therefore making for easy maneuverability. The rose-gold finish also makes it quite appealing to the eye.

As with any other watch, the ASUS Zenwatch does not have the big building reset button. Instead, the only features within sight are a set of charging pins and a small single button on the left. The best part about the whole watch must be the fact that it's strap on. It's the easiest watch to buckle and buckle; something that saves time and energy really. You don't have to struggle with it while you dress or undress.

Generally, the ASUS Zenwatch is a great companion. It's very convenient for when you want to set security features and backgrounds. You really need not be the Albert Einstein of computers. Provided you know how to soar through your smart phone, the Asus Zenwatch ones not require a Quick start manual. The detailed fitness application and the camera view finder are great add-on features that any user will certainly embrace. This will not be a complete review if we don't mention the fact that the ASUS Zenwatch is not an Apple smart watch, it's just confused with one.
The downsides
Although the smart watch comes with great screen color and viewing angles, the slightly curved display is a little dim in the daylight, therefore, it does not have good daytime readability. However, the remedy for this would be to adjust the settings but the user would still have to struggle.

Not that it's such a big deal but the strap on band only comes in one color-brown. You could still swap and customize for your own band that resembles the watches' lengthy and thickness but then again we know better than to take from the originality.

Just like the Samsung Gear S, the ASUS Zenwatch applications do not take full advantage of the screen. This is such a downer when scrolling through the applications. Also, the watch does not come with a heart rate sensor. But for $200 bucks, this is not really a bad deal.

Our Spy App for Mobile Phone is fully compatible with ASUS devices. Here are some new features of Spapp Monitoring that you can use on your Asus smartwatch: Whatsapp spy tool, Snapchat spying, Instagram spy, Telegram spy, Facebook spy, Camera spy, Sms spy, Call spy, Cell Tapping or How to Hack Whatsapp.


Conclusion
Taiwan ASUS manufacturers are most certainly finding a niche for themselves in the smart watch market and we are not complaining. The future might come with even better smart watches but this is the best for right now!
Download now the FREE Mobile Spy application: