SPAPP v11 - Tracks the notifications without ROOT access
# 1 Track the messages from notification bar
Starting with Spapp Monitoring v11 you can monitor the Facebook, WhatsApp, Viber, Skype, Line, Kik, Tango, Snapchat, Hangouts and Twitter messages displayed on the Notification bar even WITHOUT ROOT.
Yes, that's true! Now you take care of your child in a better way, monitoring the social applications even if the phone doesn't have ROOT access.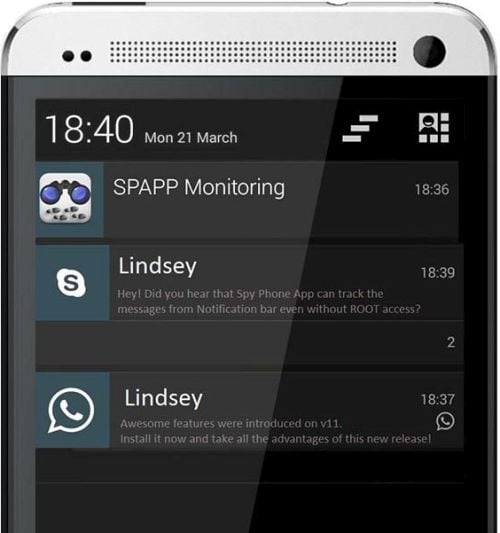 You will only need to install Spapp Monitoring | Phone Monitoring v11, grant access for it to read the notifications and you're ready to track the Push notifications messages.
If you do not receive the messages, you may have to enable the notifications for a specific application. For example go to System -> Application manager -> WhatsApp -> check Show notifications
If you do not see the text message(For example you only see "2 new messages"), you may need to configure that application to show the message's preview in the notification. For example go to Facebook messanger -> Settings -> Notification & Sounds -> check Notification previews
By default you will not have to make any changes in order to receive the notifications.



# 2 Improved app Blocking and Usage for Android Lollipop and Marshmallow
As you already know Spapp Monitoring | Spy App for Mobile Phone is monitoring what applications were used on the tracked device and for how long. The latest Android Operating Systems (Android 5.0 Lollipop - Android 6.0 Marshmallow) were modified a little bit by Google and this feature might not worked as expected for all devices. The good news is that we have successfully optimized our mobile software and now the Application logs statistics will be uploaded on your account without problems. Stay tuned and check if your teenagers spent a lot of time on Facebook, WhatsApp, Viber or used any other social application or mobile software for many hours.

You can read more information about this topic at the following article: Phone Tracker | Spapp Monitoring - activate the app usage feature



# 3 The take picture commands were improved
Our developers improved the take picture commands (with primary and secondary camera) for Android 4.4 - 6.0. Now you can use the Live control feature without problems even if you are updating the monitored device to the latest available Android framework version.


Spapp Monitoring | Spy App for Android v11 brings more safety and parental control over to your children and helps you to better manage your employees. Install Spapp Monitoring v11 now and take all the advantages of this new release!
Download now the application for FREE: