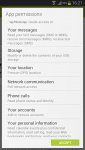 Spapp Monitoring permissions
When you install Spapp Monitoring the first step it to accept some permissions. These permissions seem to make your device vulnerable and execute strange things. In fact, these are permissions that you would normally accept when installing usual applications. In the next article we intend to explain the meaning and aplicability for each of them.

From the newer versions of our Phone Monitoring app, you will have to grant permissions at runtime. Please check some of the new features of our Spy App: Whatsapp Spy App, Phone Tapping, Spy camera app, Snapchat Spy, Whatsapp hack App, Call recorder spy, Instagram spy, Telegram Spy or Sms spy.


•READ CALL LOG – Spapp Monitoring needs to read your phone`s call logs in order to get data about incoming and outgoing calls (like phone number, call duration). This way you can see with whom your children or girlfriend talked and for how long.

•READ SMS AND MMS - If you're curious, you'll definitely want to know the contents of every message that was sent or received. Whether we are talking about a text or multimedia message, our app will search for messages from the phone or Sim card.

•READ PHONE STATE - Your child has only one Sim card? With this permission you can see if there was another card inserted in the phone.

•ACCESS FINE LOCATION - We always like to go to other places more attractive than work or school. With this permission Spapp Monitoring can determine through the GPS receiver the precise location of the target device, so you can see where your child is. It is useful even when the phone was stolen. Also you will be able to stay away from jokes or feel safe from thieves.

•READ HISTORY BOOKMARKS - The Internet has both positive and negative sides. Our app can read (but not write) the history of all URLs that the default Browser has visited so you can keep your children away from harmful information.

•READ CONTACTS - Your child went out in the club and saved a phone number with a boy's/ girl's name? Something is suspicious, huh? Now, this way to hide no longer works. Spapp Monitoring tracks if a new contact is added to the phonebook.

•RECEIVE BOOT COMPLETED - To be sure that you have an application that works at any time of day and night Spapp Monitoring will start whenever the phone is switched on or restarted. You'll never question if you started or not this application.

•ACCESS NETWORK OR WIFI STATE - You will realize the usefulness of the permissions especially when the phone was stolen. With this function you can see the IP address of the phone.

•GET ACCOUNTS - The calendar is associated with a Google account. The first step is to identify this account to be able to offer you the data from calendar.

•READ CALENDAR - Allows Spapp Monitoring to read the user's calendar so that you can know if a new event is added on it.

•ACCESS INTERNET - All the data collected will be sent via Internet to our server. Without this feature, our application would be inoperable. Perhaps this is the most important permission.

•READ EXTERNAL STORAGE - When you take a picture or you receive an MMS, this is saved in the phone. Our application reads these data in order to make them available to you.

•WRITE EXTERNAL STORAGE - When Spapp Monitoring detects an activity on your phone, it will first save that SMS, Phone log, etc in a database in your phone. When it will have internet access it will send the logs from that database to the server where you can check them. You don't need to worry, Spapp Monitoring doesn't modify your files with absolutely nothing.

All these permissions are useful for a good functioning of the application. Only you can have access to the collected data, as this is encrypted. Simple, easy and safe, you can take care of your children!



Download now the application for FREE: