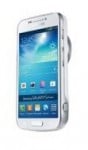 Samsung Galaxy S4 Zoom
Best camera phone or camera with the best phone?
Samsung has decided to cover all market areas and launch a mobile-camera. The company has worked hard on its image. Samsung is the one who managed to change the perspective of many iPhone users and to attract them to the Android platform.


Hardware
The phone is a Samsung Galaxy S4 Mini slightly modified and must start from the same limitation. It has a storage capacity of 8 GB, which are only available 5 GB and 1.5 GB RAM. The processor has been changed from S4 Mini. Is a dual core 1.5 GHz Cortex A9 architecture and a Mali 400 GPU. The multitasking is great, the phone is moving fine and is efficient in all the applications and games that require a lot of resources. The dual core is excellent.


Display
The phone comes with a 4.3-inch Super AMOLED screen with a pixel density of 256 pixels per inch with a resolution of 960x540 pixels. It is identical as that of S4 Mini. It's a qHD resolution, a quarter HD (Q = quarter).
Connectivity
The phone connects to your computer via micro USB, but can communicate with other terminals via Wi-Fi Direct, Bluetooth or 3G.


Sound
A clear sound in the headphones and the speakers is decent. The speaker is placed on the camera, so there is almost never blocked, only when you writing and your index finger is placed there.


Battery
The battery is 2.330 milliamps compared to 1.900 milliamps per S4 Mini, but in photo mode the S4 zoom consumes a lot. It has a range of about 8-9 hours on 3G Internet, video and audio streaming. But into stand by the device consumes a lot of battery.


Design
It is difficult to understand the design of this phone. Because it's not like anything that was before. It's more camera than phone. The 4.3-inch screen is visible when you hold the phone, but on the table, it's just a camera. This is the problem.


Pros:
-The camera is better than the other phones
-The screen has a very good color saturation
- The 10X zoom is useful


Cons:


- The design is strange
-The photos, if you want quality, are very large
-The price is higher compared to other brands. The hybrid costs, and this can be appreciated only by those with money

Spapp Monitoring app is fully compatible with Galaxy S phones, even the newer models like S22. Please check some of the new features of our Spy App for Android: Whatsapp Spy tool, Whatsapp hack tool, Facebook Spy, Snapchat Spy, Instagram spy, Telegram Spy, Phone Tapping, Spy camera app, Call recorder spy or Sms spy.


Samsung Galaxy S4 Zoom is an exciting device. We can say that it was better in terms of smartphone and not as good on the replacement for a compact camera. Interesting is that Samsung has incorporated many useful functions: Flipboard for enthusiasts, Dropbox to store photos and files in the cloud, TripAdvisor for those willing to go on vacation, S Voice for those who want some sort of Siri and many others.


Download now the FREE Cell Tracker application: