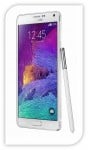 Samsung Galaxy Note 4 - the best of Samsung
Samsung has continued develop our favorite kind of smart phones. Well, two things are true, if you are reading this review you definitely work hard for your money and you want to spend it on a worthwhile phone. Samsung Galaxy Note 4 does not necessarily have the most impressive and outstanding specifications but one thing's for sure- its owners have definitely been more satisfied than the owners of many other kinds of smart phones.

It has great personalization and additional features. This makes it very easy to integrate this smart phone into a user's everyday life. It's great for communication, entertainment and even keeping schedules. Its big display (5.7" Quad HD Super AMOLED) and high resolution capability; also its high resolution on camera (front camera 3.7MP+f1.9/selfie) are few among the things that make the Galaxy Note 4 outstanding. Above all, it's the first of its kind to get optical image stabilization for its main camera, making it unique than any other note series.
The Pros...
The Samsung Galaxy Note 4 has an extremely high pixel density screen of 515 ppi. This boosts its functionality in comparison to most smart phones. The 8 core processor, 3072 MB Ram and its fast mobile data support makes it quite useful when it comes to personalization. Most importantly, it has huge storage (32 GB internal memory) and amazing software enhancements that enable a user to customize it according to their mobile phone needs.
The only concern…
Samsung definitely needs to change the Touch wiz concept as it hinders navigation and quite frankly has become boring over the years. Since Touch wiz exists on all Samsung devices, it's doubtful that change is near but we can hope for free.
Phone Specifications
Display
The Galaxy Note 4 is a Multi-touch device that is coupled with tons of pixels, a Light sensor, Proximity sensor and a Scratch-resistant glass. The display is never dimmed or washed out.
Camera
The 16megapixel camera certainly brings light in the mobile photography department. It is easy to use in terms of taking snapshots, starting videos and accessing the gallery. It is coupled with a very powerful sensor.
Battery
This smart phone holds up battery like a champion (3220mAh Battery). It also comes with a quick charge of 2.0 just in case you want to charge your phone quickly.
Other in-built features include a heart rate monitor, a fingerprint scanner, USB-on-the-go and a microSD slot among others. The Galaxy Note 4 is not the wondrous of creations. Honestly, you will find better iphones out there. But its metallic, sleek design and ergonomic feel makes it comfortable to the hands and the fingers. It also comes with a great stylus (S-Pen 15g, hovering 15mm) for jotting down ideas which the Galaxy Note 4 automatically changes into an amazingly organized list. So writing isn't just legible, it is usable. Its smooth instinctive interaction feels like pen to paper.

Our Spy App is fully compatible with Galaxy Note phones. Here are some new features of Spapp Monitoring: Whatsapp spying, Instagram spying, Telegram spying, Snapchat spying, Facebook tracking, Spy camera app, Sms spy, Call recorder spy, Cell Phone Tapping or How to Hack Whatsapp.

The Samsung Galaxy Note 4 might just be one of the best few smart phones that are left out there!
Download now the FREE Mobile Spy application: