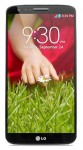 LG G2 the new flagship of the manufacturer
LG has launched its new flagship phone. As expected, the south koreans have focused on all aspects of the new top of the range, from design to hardware, facilities which are impressive.

According to the trends, G2 has a 5.2 inch screen, a 13 megapixel camera and a 3,000 mAh battery. The spec sheet shows that we are dealing with a top phone. The screen offers a resolution of 1920 x 1080 pixels, the processor is 2.26 GHz quad-core and has 2 GB of RAMand the camera is protected by a layer made of sapphire crystal. The LG G2 camera focuses on subpixels, not the number of megapixels, a technology somewhat similar to UltraPixel from HTC One.

There will be two versions, with 16 and 32 GB storage. The operating system is Android 4.2.2. The phone offers the usual WiFi and LTE. The LG has put heavy emphasis on the sound output from the LG G2. G2 provides HI-Fi sound quality comparable to that obtained and rendered in a professional audio environment.

The battery capacity is very generous. With its 3,000 mAh you should last enough even with intensive use, despite the large size of the screen. LG says it uses a special technology called Graphic RAM that will reduce the energy consumption of the screen by up to 26%, which extends the life of the phone by 10% between charges.

An interesting innovation is represented by the key position. The buttons were normally positioned on the sides have been moved to the rear. Keys for volume and on / off button are now on the back cover. Equally interesting, you can start it by touching the screen twice, no longer need to press the dedicated button to start. Neither in the front will not be any key, even tactile keys.

The G2 device will be released in September in the U.S. and Germany but the price was not disclosed at this time.

Our Phone Monitoring app is fully compatible with Galaxy LG phones. Please check some of the new features of our Spy App: Phone Tapping, Sms spy, Spy camera app, Whatsapp Spy App, Whatsapp hack App, Call recorder spy, Instagram spy, Telegram Spy or Snapchat Spy.


Download now the FREE Mobile Tracker application: