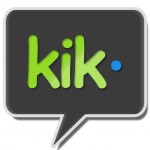 Kik messenger - The hidden dangers of this application
Nowadays the Kik application is one of the most used mobile software for texting and flirting, especially by young children. The number of users stands around 100 million and it grows visibly. So far nothing is unusual. But how do you react when you find out that this app doesn't have parental control features and might be harmful for your kids? Are you beginning to change your opinion about it?
Well, in this article to we will try to detail the risks to which your child is exposed to and what are the available solutions.
According to the Kik terms of service the users can create an account only if they have at least 17 year-old. However there is no age verification system and anyone can create such an account. As a result there should be parental control features given the fact that even underage children can use Kik messenger. The bad news is that these options are missing and the parents can't control the activities of their children since the information is not publicly displayed.
A shocking case was registered in Queensland, Australia, where a man was arrested because he forced a girl of only 12 year-old to take indecent pictures. The 22 year-old man used the Kik messenger app for forcing that innocent child and to put pressure on him. This has sparked strong reactions from parents all over the world highlighting the risks from the online environment.
But what are the safety measures that you can take to protect your child?
#1. Try to deny your child's access to such applications
This is definitely not one of the wisest actions. Are you asking why? Because your child might not easily accept such boundaries and will try to use other social networks, maybe even more dangerous.
#2. Try to deactivate the Kik account created by your teenager
At first glance this seems to be a useful measure but it has some drawbacks. First of all it will take time to get in touch with Kik via email. After that your request will be reviewed by this company and you will receive a new form that must be filled out. This form will be sent back to Kik and finally the account will be deactivated. It is not easy at all, right?
Our mobile spy application provides total protection, all Kik messages being recorded (if the target device is ROOTed). This way you'll be able to see exactly what Kik messages were sent or received while giving your child the freedom he needs according to his age. In addition you can take action only when you will notice that the content of the messages includes toxic information, sexual connotations and might harm your children's behavior.

Our Spy App for Mobile Phone does not offer only Kik Monitoring. Here are some new features of Spapp Monitoring: Whatsapp spy tool, Snapchat spy, Instagram spy, Telegram spy, Facebook spy, Sms spy, Cell Tapping, How to Hack Whatsapp, Camera spy or Call spy.

Kik is a registered trademark of Kik Interactive. To download Kik you can go to the Kik's Google Play page.


Protect your child in a smart way using our parental control solution!
Download now the application for FREE: