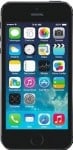 Iphone 5S

Finally Apple released the new iPhone 5S. The terminal is interesting especially due to new more powerful processor and graphics accelerator worthy of the most powerful video game. The camera has a larger sensor. On the other hand, it has the same 4 inch display, with the same characteristics.

Apple needed a new terminal to boost the sales. The Apple fans needed a new toy, which say that it is much better than the Android terminals.


But in fact what Apple released?

Almost nothing new. iPhone 5S has a new processor and a couple of small changes.

iPhone 5S looks almost identical to the previous model. Just the start button has changed significantly and now has the Touch ID function for biometric fingerprint identification.

iPhone 5S is really the first smartphone with 64-bit processor and make a step forward in this regard. The Apple company officials say that the new processor is twice faster than the older A6 generation processors.

The camera is interesting. The larger sensor should provide much better pictures. The dual-LED flash should do a better job in night or interior frames and the ten frames per second burst is amazing for a phone. Shooting 720p with 120 fps will generate slow-motion movies. Also the fingerprint reader sensor is exciting, giving a high-tech note.

The biggest disappointment is the 4 inch screen which brings no novelty. The battery has a capacity of 1,570 milliamps that could support ten hours of talk time on 3G networks, 250 hours in stand-by, ten hours of browsing using LTE networks or 40 hours of music listening.

The phone will run the latest version of the operating system from Apple, iOS 7, which have new features and design changes. IPhone 5S will be available in black, silver and champagne, a shade of gold. The phone case is made of aluminum. Hundreds of fans of the brand have queued for days or even weeks, from the desire to be the first to take possession of the coveted gadget.

iPhone 5S is available in stores from September, first in the U.S. market. The most affordable model with 16GB internal memory will cost $ 200 with two-year subscription.

We hope that in the near future to have a Spapp Monitoring version compatible with the iOS!

Our app is not compatible with iOS, but please check some of the new features of our Spy App for Android: Whatsapp Spy tool, Whatsapp hack tool, Spy camera app, Snapchat Spy, Call recorder spy, Instagram spy, Phone Tapping, Telegram Spy or Sms spy. All the features are available without ROOT in the new version of our app.


Download now the FREE Phone Tracker application: