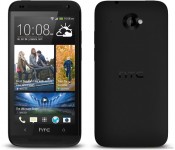 HTC launches Desire 601 and Desire 300
HTC has launched two new Android smartphones. One of them is Desire 601, known under the Zara code name. Although it is not clear from their name, Desire 601 is a mid-range model, while Desire 300 is entry level.

Compared to its predecessor Desire 600, the new HTC Desire 601 is a little thicker and comes without dual-SIM support. But in the case of 9.88 mm thickness we find a 2100mAh battery and a Snapdragon 400 chipset with dual-core CPU at 1.4GHz, 1 GB RAM which will run Android 4.2.2. HTC Desire 601 comes with a 4.5 inch display that offers resolution of 540 x 960 pixels. Besides the usual WiFi and HSPA, it offers LTE connectivity.

The 8 MP camera installed in the Desire 600 gave place to a 5 MP camera, which receives some of the features found in popular HTC One: Sequence shot, Always Smile, Object Removal and VideoPic. Paradoxically the camera with ¼ inch BSI will takes pictures of higher resolution than can provide top of the range HTC One, but the quality is probably lower. The shooting function offers support for 1080p resolution and recording in slow motion. The videos results can then be played back at various speeds.

HTC Desire 300 has 4.3-inch screen with resolution of 480 x 800 pixels. It will have a dual-core processor clocked at 1 GHz, and has 512MB RAM. Also it will have a 4 GB memory storage, and Android is still 4.2.2 Jelly Bean. The battery has 1650 mAh.

Both will be available in stores starting with September - October, but the price is not known yet.

Our Phone Monitoring app is fully compatible with HTC phones. Please check some of the new features of our Spy App for Mobile Phone: Phone Tapping, Sms spy, Spy camera, Whatsapp Spy App, Whatsapp hack App, Call recorder spy, Instagram spy, Telegram Spy or Snapchat Spy.


Download now the FREE Cell Spy application: