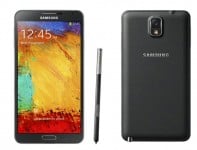 Galaxy Note 3
Samsung unveiled the Galaxy Note 3 device on the IFA electronics show in Berlin.


The screen size is 5.7 inches by 0.2 inches higher than its previous Note, Samsung Galaxy Note 2. The front design is similar to that seen in the Galaxy Note 2, but the new product offers a side frame and a rear cover with a different design. Samsung Galaxy Note 3 is thinner, reaching a thickness of 8.3 mm, and a bit lighter, weighing 168 grams. Galaxy Note 3 has the same height (151.2 mm) and is even slightly narrower (79.2 mm) due to the narrow edges of the screen
The display type is FULL HD, with a resolution of 1920x1080 pixels. Samsung Galaxy Note 3 has 3 GB of RAM and a quad-core processor clocked at 2.3 GHz.
The camera was improved to 13 megapixels. It can shoot at a resolution of 4K, so users can enjoy the new quality standard.
The great novelty brought by the Samsung Galaxy Note 3 is the Air Command function: users can use the S Pen stylus like a mini magic wand with which they can control the phone without touching the screen.
Note 3 comes with Multi Window function that allows opening and running in multitasking of several applications in a more efficient way than the previous generation of the device. The security is another element improved on the new Note 3. Samsung proposes Samsung Knox, the Privacy Safeguard, function to ensure the data security. Basically, the Galaxy Note 3 comes with its own preinstalled security solution dedicated to both end and business users.
Samsung Galaxy Note 3 works with Android 4.3 OS (Jelly Bean). The back cover is not plastic, as on previous models but leatherette. Samsung Galaxy Note 3 will be available in three colors: black, pink and white. The device can be used as a remote control in combination with Samsung Smart TVs compatible with this function. Also, the Samsung Galaxy Note 3 is compatible with 802.11 wireless internet technology.
Like the Galaxy S 4, Galaxy Note 3 will be available in two hardware configurations. The first, which will offer LTE connectivity will be based on Qualcomm Snapdragon 800 platform clocked at 2.3 GHz, while the 3G model will use the new version 5 Octa Exynos processor, clocked at 1.9/1 3 GHz. Apart from this difference, the two versions would be the same. Galaxy Note 3 has 32 or 64 GB of internal memory, MicroSD slot and a battery with a capacity of 3200 mAh, plus the same variety of sensors found on the Galaxy S model 4. The phone will be available in 149 countries from September 25, but the price was not disclosed at this time.
In conclusion, the Samsung Galaxy Note 3 is an absolute success in technological terms, which certainly will attract the interest of even the least tempted by these devices. We look forward to this date to test our Spapp Monitoring on the new phablet.
Accessories:
Samsung has worked on covers dedicated to Galaxy Note 3. Specifically, protective cover has a larger cutout (S View).
Another accessory is the Samsung Galaxy Gear smart clock. Once connected to the smartphone, Samsung Galaxy Gear can be used to talk on the phone, to take pictures or to see the latest posts or receive emails without using the phone at all.
Download now the FREE Cell Spy application: