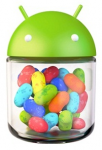 Android 4.3
Android 4.3 - the new update of Jelly Bean Until the next version of Android 5.0 Key Lime Pie, Google released an update to Jelly Bean version - Android 4.3. Although Android 4.3 doesn't bring major improvements and design functionality, this version has a number of features that will be apreciated by the developers and users.


Regarding to the graphical interface we can mention:

-The autocomplete option when you dial a phone number comes deactivated but can be reactivated
-The camera application is improved and provides better control options
-Several new frames and preconfigured color for photo editing
-The photo sphere mode for camera has been improved


These are the novelties brought by the latest version of Jelly Bean:

- OpenGL 3 support for Embedded Systems: This will allow the developers to make games with improved graphics and high quality images.
- Support for the Bluetooth Smart standard, also known as Bluetooth 4.0 Low Energy (BLE). This will allow users to connect their "smart" devices (such as SmartWatch sensor, heart rate monitor) to any device with Android 4.3 OS to view the information provided by sensors and use them for physical activity or the health status monitoring. It also offers support for Bluetooth AVRCP 1.3 profile that will allow to display the ID audio tags to the connected devices.
- Restricted profiles: This update allows you to create a number of user profiles to which you can impose certain restrictions. For example, you can create some accounts like "parental control" where you can filter the network access or restrict the access to certain applications.
- Improved DRM. The new Digital Rights Management (DRM) feature will allow the developers to integrate DRM encryption in the content of the protocol streaming. The applications can benefit from a new package of video codecs, which integrates an VP8 converter for video capture.
- Improved interface. New algorithms for keyboard prediction, low touch latency, separate section for blocked applications, faster switching between user profiles.
- A new set of Profiling Tools. New tags and on-screen GPU profiling to help developers to improve the speed and performance of their applications. Also the new update allows the localization based on the Wi-Fi networks (an application that performs the localization based on the scanned signal from the neighborhood) without preliminary activation of this module by the user.

Google has already begun automatic update for Nexus devices (Nexus 4, Nexus 10, Nexus 7 - both versions, Wi-Fi and 3G) and the Galaxy Nexus smartphone.

Our Phone Tracker app is designed for the Android System. Please check some of the new features of our Spy App: Whatsapp Spy App, Whatsapp hack App, Phone Tapping, Spy camera app, Snapchat Spy, Call recorder spy, Instagram spy, Telegram Spy or Sms spy.


Download now the FREE Cell Tracker application: