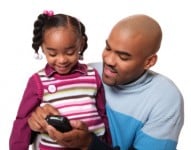 Parental Control

More and more parents purchase cell phones for their children to be able to call or to control them. But few of them are aware that a smartphone can do more harm than good to a child. Teenagers are tempted to search and try new things but not all of them are positive. Without a strict control of information teenagers can easily become vulnerable.


The excessive use of cell phones, of the internet, but also of social networks can pose serious problems to a parent. You need to know with whom your child interacts and how. Of course, this does not imply major restrictions but with a parental control software you can simplify things and have no worries. Now you can monitor how your children use their smartphones with the help of Spapp Monitoring.


Spapp Monitoring is a complete parental control software to keep your children safe from negative information. Such an application is very useful nowadays, when children have easy access to the Internet via mobile devices.

What are the advantages of a parental control application?

With a parental control app parents can remotely monitor the phone logs, messages and multimedia messages, GPS location, Browser activity, WhatsApp, Facebook, Viber and Skype messages. All the collected logs are sent to our server and are stored safely so you can remotely check them from your computer, from your tablet, laptop or smartphone.

Our Phone Monitoring software is a full parental control app. Please check some of the new features of our Spy App for Mobile Phone: Phone Tapping, Sms spy, Spy camera, Whatsapp Spy App, Whatsapp hack App, Call recorder spy, Telegram Spy, Instagram spy or Snapchat Spy.

We care about how your children use their mobile phone and we want to protect them from risks that the Internet brings.


Try now Spapp Monitoring - A complete parental control solution to protect your children while they use their smartphone and to control their activity on the virtuall environment.


Spapp Monitoring will allow the parents to ensure a safe and a responsible use of phones by their children, adapted to their age. The new parental control app will allow the parents to give to their children a smartphone, in complete safety.
Download now the Phone Monitor application for FREE: