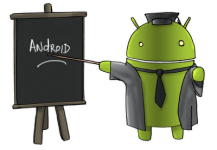 Curiosities about Android

Probably a lot of people aren't very familiar with Android. So, a lot of users might have a question: what's Android? Well, that's quite simple. Android is a mobile operating system developed by Google.

Android is a Linux-based software system, it is free and open source software, similar to Linux.

Another curiosity about Android is the competition. Android's biggest competition is Apple and Windows. Although Apple is Android's chief rival, Windows Phone is another important competitor as well. Windows Phone has slowly grown into a reputable mobile ecosystem, being used by a lot of people.

Android is expanding very fast and it is moving beyond tablets and phones to wearable technology. It's quite obvious that the future of Android seems extremely bright. One great example of wearable technology is Google Glass, which is considered as being the future of technology. Google Glass – you put on a pair of glasses that is connected to the Internet and it displays information. Google Glass, like most of Google's products, it is using Android.

Android is now developed by Google, but things weren't initially the same. Android wasn't developed by Google at first. Android was just a simple company from California, named as Android Inc. and being founded by Andy Rubin, Chris White, Nick Sears and Rich Miner. The founders were great innovators but they had less money to complete this project.

The first commercially available Android smartphone available on the market was launched by HTC. The Android-based smartphone was called HTC Dream and it used the Android mobile operating system.

I bet you didn't knew that the cute little green thing, Android's mascot from the logo isn't Android's creation. Actually, the mascot was adopted from a character named Android from the game called Gauntlet.
Android is built using a lot of programming languages, such as C, C++ and Java. C makes the core and Java takes cares of the UI.

The first commercial version of the mobile operating system Android was released on 23th September 2008.

There are almost 430.000 applications available for Android phones and tablets. There are roughly added 20.000 new apps, monthly.

There are more men using Android than women. For every product that can be and is marketed to the public, there are also certain demographics that marketers need to keep in mind. For Android, the main demographic shows us men with about only about 27% of users being female.

People are very loyal to Google's Platform, Android. About 63% of people are not interested in buying an iPhone mobile.

Our Phone Monitoring app is designed for the Android phones. Please check some of the new features of our Spy App: Phone Tapping, Spy camera app, Whatsapp Spy App, Snapchat Spy, Whatsapp hack App, Call recorder spy, Instagram spy, Telegram Spy or Sms spy.


Download now the Phone Monitor application for FREE: