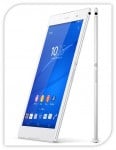 Sony Xperia Z3 - Taking pride in the future
What better way to start the holidays other than to replace your old phone with a brand new one! In case you are looking to upgrade or surprise someone special with a phone for Christmas, ho! ho! ho!


The Sony Xperia Z3 is an excellent choice. With features like the PS4 remote play and the vita controller, you couldn't go wrong. The Sony Xperia Z3 combines great features and a super amazing display for a memorable first impression. Just like with the Z2, with this device, Sony offers a great refined look and an ergonomic delight (152g).


The overall design gives the Sony Xperia Z3 that extra oomph. The metallic finish and curved edges sets this phone apart from the rest in the Android market. The fact that it is also waterproof and dust-resistant makes the Sony Xperia Z3 one of the most element resistant mobile phones and with a variety of life-logging applications, any user will certainly enjoy the experience.


One of the most important features being the display (IPS LCD capacitive touch-screen, 16M Colors), the triluminous Xperia Z3 does not leave anything to chance. The screen is well visible even in bright light or under the sun. The LiveColor LED Touch and V-reality engine offers a natural representation of a wide array of colors. However, one downside is that the phone could preferably come with a proper controller. The Vita could certainly use an upgrade as it does not work so well.


The dedicated camera button (20.7MP with LED flash) offers great captions and photos but it could be slow from time to time especially when the phone overheats. Even so, the crisp speakers enable anyone to enjoy their favorite music or make clear-cut calls while on hands-free mode. The battery is very dependable (3100mAh battery) and it holds power for up to two days (power saver/stamina mode) regardless of how you use it. If nothing else counts, this might just be the beauty of the Sony Xperia Z3. In cases of emergency; the quick 15-min charge is certainly the answer to your prayers.

Our Phone Tracker is fully compatible with Sony phones. Here are some new features of Spapp Monitoring: Whatsapp spy tool, Snapchat spying, Instagram spying, Telegram spying, Facebook spying, Camera spy, Sms spy, Call spy, Cell Phone Tapping or How to Hack Whatsapp.

The Sony Xperia Z3 is not far from the Xperia Z2 which was released six months earlier from this latest invention. Either way, it comes with amazing speed (HSPA 4.2/5.76 Mbps) and a good operating system (Android v4.4.4 KitKat). There is certainly a difference between good and great. The Sony Xperia Z3 is a good phone. If you can live with these few technical shortcomings, then go for it.
Available in white, black brown and turquoise blue, it's certainly a whole new phone experience.
You have a winner!