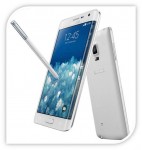 Samsung Galaxy Note Edge
Samsung has always shown promise as one of the most viable competitors in the flagship smart phone battles with Iphones. The amazing Samsung Galaxy Note Edge still gives its users all the benefits a Galaxy Note 4 would offer although it's a little bit costly. Although it has amazing features, lefties may not be too happy about this invention as the Note Edge is better suited for right-handed users.

When it comes to smart phones, there has never been as many options- only upgrades. The main difference between the Note Edge and the Galaxy Note 4 is basically the price. To be precise, Samsung Galaxy Note Edge is a total replica of the Note 4; however, it's much classier and a little upgraded. Most people are skeptical about buying this smart phone because of the curved display but this does not hinder its functionality. It might get some getting used to but once a user gets the hang of things, there's no stopping.

Our Spy App is fully compatible with Galaxy Note phones, including with the latest Note phones. Here are some new features of Spapp Monitoring: Whatsapp spying, Instagram spying, Telegram spying, Snapchat spying, Facebook spying, Camera spy, Sms spy, Call recorder spy, Cell Phone Tapping or How to Hack Whatsapp


The Pros
The Samsung Galaxy Note Edge has a high resolution curved screen (Super AMOLED capacitive touch screen). This enables the phone to provide you with the most personalized features in the simplest way. The stylus is also really easy to use(S-Pen stylus). Its extended battery life is also amazing (Li-Ion 3000mAh Battery). Some other larger smart phones won't even make it through two days but the Galaxy Note Edge benefits from its power efficient prowess. I'll have to hand it to Samsung- the 16 megapixel camera ekes light even in the toughest of lighting (optical image stabilization). It comes with good image stabilizing and effortless image capture most especially during the day. The Note Edge camera is one of the few that we know to gauge scenes perfectly.
The Concerns
A good smart phone is often expensive. The Note Edge is no exception-it's quite costly. Maybe it's because of its user friendliness, curved screen and amazing in-built features. Either way, you get what you pay for.

This is the major problem with the curved screen…although it fits well into the corner of your palm, it's very restricting, especially to left handed users. The fact that it does not favor everyone takes away from its great functionality. You also cannot upgrade its storage but there's not one Galaxy Note with an extended storage!

The user settings are a little bit obtuse in comparison to most Android phones but it becomes very efficient once you understand how to use it.
Specifications
• Dimension
151.3 x 82.4 x 8.3 mm / 174 g

• Display
5.6" Quad HD+ Super AMOLED (2560×1440+160)

• AP
2.7 GHz Quad Core Processor

• Memory
3GB RAM + 32GB Internal memory and supports micro SD up to 128GB

• Network
2.5G (GSM/GPRS/EDGE): 850/900/1800/1900 MHz 3G (HSPA+ 42Mbps): 850/900/1900/2100 MHz 4G (LTE Cat.4 150/50Mbps) or 4G (LTE Cat.6 300/50Mbps)
* May differ by country and carrier

• Camera
Front Camera 3.7MP + F1.9/ Selfie (90º), Wide selfie (120º) Rear Camera 16M+ Smart OIS/ Fast AF, Live HDR (Rich Tone)

• OS
Android 4.4 (Kitkat)

• Connectivity
Wi-Fi 802.11 a/b/g/n/ac (2X2 MIMO) Download Booster, NFC, Bluetooth® v 4.1 (BLE),ANT+ , USB2.0, MHL 3.0 IR LED (Remote Control)

• Battery
3000mAh Fast Charging

• Audio
Codec: MP3, AAC/AAC+/eAAC+, WMA, AMR-NB/WB, Vorbis, FLAC Adapt Sound, Sound Alive, Wise Voice 2.0, Extra Volume 2.0 3 Mics (Directional Voice Recording)

• S Pen
15g, Hovering 15mm, Pressure level 2,048

• Sensor
Gesture, Accelerometer, Geo-magnetic, Gyroscope, RGB ambient light, Proximity, Barometer, Hall Sensor, Finger Scanner, UV, HRM

The custom-color palettes that come with the Samsung Galaxy Note Edge are definitely eye catching for any user and the 5-6 inch Quad-HD+Display makes the Note Edge a little sleekier than Note 4. The Samsung Galaxy Note Edge is great for extra functionality. That 'edge' enables you to fit a slender bar for customized settings. It's definitely more than a notification/status bar.

Samsung's apps are most often solid. Therefore, the Note Edge is a great phone; it might not be remarkable for one or two reasons but it's worth buying if you're looking for something a little different. Reading reviews on paper and practically using the phone are two different things. You gotta buy it to believe it!